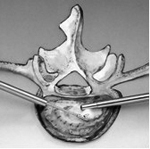 In very special cases, the disc material can be removed purely endoscopically.
In all other cases, the spinal canal is exposed through a small skin incision of 2-3 cm.
Under the operating microscope the nerve is held away and the blown out disc material is removed.
6 hours after the operation the patient is allowed to get up and sit immediately.
After 2-3 days one can already go home.
Detailed information can be found in the document Nerve decompression surgery lumbar vertebrae